Parker Green Emblem : les champagnes Louis Roederer et Larmandier Bernier récompensés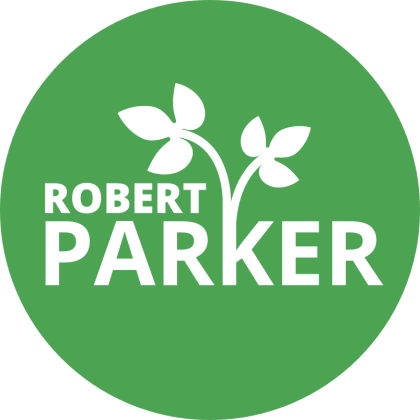 25 octobre 2023
Le palmarès 2023 du Robert Parker Green Emblem vient d'être publié. Il s'agit une distinction qui récompense depuis 3 ans les producteurs et domaines dont l'engagement pour une industrie viticole plus responsable est inspirant et précurseur.
L' emblème vert Robert Parker a été créé pour célébrer tous les efforts et initiatives durables des producteurs de vin et accompagner un changement positif au sein de l'industrie. L'Emblème Vert, une prestigieuse distinction annuelle, est un moyen de reconnaître et de soutenir les établissements vinicoles qui vont au-delà de leurs attentes pour adopter des pratiques respectueuses de l'environnement tout au long de leurs processus de viticulture, de vinification et d'organisation.
Si de nouveaux domaines dans le monde ont été ajoutés et récompensés. Force est de constater que pour la Champagne, ce sont de nouveau la Maison Louis Roederer et le Champagne Larmandier Bernier (lire ici) qui sont sur la liste des Green Emblem. On espère qu'il y en aura encore d'autres pour s'ajouter à ces derniers et représenter la Champagne lors de la prochaine édition !
Tamlyn Currin&Jancis Robinson
2 Jun 2023 : Currrent sparkle, in abundance
A recent tasting of Lea & Sandeman's impressive collection of grower champagnes had me falling back in love with champagne after a long period of what one might call indifference. In his introduction to the tasting booklet, Charles Lea wrote that grower champagnes make up only 4% of the champagne market, highlighting the huge risk and investment these small vignerons have to take and make.
Many of them are implementing sustainable ways of working in the vineyard. Of course, leading the way is the long organic and biodynamic Larmandier family and Francis Egly of Egly-Ouriet…
*Here are the tasting notes:
17 Larmandier-Bernier, Latitude Extra Brut Premier Cru NV Champagne
        £57.95 Lea & Sandeman 
17,5 Larmandier-Bernier, Longitude Blanc de Blancs Extra Brut Premier Cru NV Champagne – £65.95 Lea & Sandeman 
17,5 Larmandier-Bernier, Terre de Vertus Blanc de Blancs Non Dosé Premier Cru 2016 Champagne – £96.95 Lea & Sandeman 
17+ Larmandier-Bernier, Blanc de Noirs Brut Nature Premier Cru 2015 Champagne – £134.95 Lea & Sandeman 
18,5 Larmandier-Bernier, Vieille Vigne du Levant Extra Brut Grand Cru 2013 Champagne – £142.50 Lea & Sandeman 
18 Larmandier-Bernier Les Chemins d'Avize Blanc de Blancs Extra Brut Grand Cru 2013 Champagne – £142.50 Lea & Sandeman 
Monaci delle Terre Nere incontra gli champagne Larmandier-Bernier

Una degustazione ed una cena esclusiva ai piedi del vulcano attivo più alto d'Europa. Vi raccontiamo l'evento organizzato da Teatro del Vino in uno dei wine resort più belli d'ItaliaUn antico convento sul versante Est dell'Etna trasformato in un wine resort di lusso grazie alla visionaria idea di Guido Coffa, un luogo idilliaco con una villa aristocratica del XV secolo e diverse dimore private distribuite su 25 ettari che da un lato guardano il mare, dall'altro il vulcano attivo più alto d'Europa. Ha l'anima di un rifugio discreto e senza pretese, lontano dal trambusto della vita cittadina, in un luogo di straordinaria energia: Monaci delle Terre Nere, che proprio di recente ha inaugurato la cantina Kantico realizzata in un'antica cisterna idrica, che custodisce non solo i vini frutto dei vigneti allevati all'interno della proprietà, ma la preziosa collezione enologica che consacra il legame molto forte con il territorio e la passione per il vino di Guido Coffa.

Larmandier-Bernier
10, 2023
A house with a longstanding tradition in Champagne, the Larmandier and Bernier Families have been involved in the Champagne vineyards since the French Revolution. We can trace back as early as the 18th century, the Larmandiers moreover participated in the rise of Côte des blancs with the fame of their Cramant Blanc de blancs Nature.
The house was officially started as Champagne Larmandier-Bernier upon the marriage of Philippe Larmandier and Elisabeth Bernier in 1971. Larmandier-Bernier has fifteen hectares under vine including the Cote des Blancs Grand Cru under vine, including the Grand Cru villages Cramant, Chouilly, Oger and Avize, as well as the premier cru village of Vertus. The vineyards are mostly planted to Chardonnay with less than 20% planted to Pinot Noir.
The new wines were really outstanding across the board. I loved the NV Larmandier-Bernier 'Longitude' (OB, 93) which is 100% Premier Cru Chardonnay that is both elegant and seamless. Learn more about this great house at https://larmandier.fr/en/our-domain/ and here are my reviews of the beautiful new wines by Larmandier-Bernier.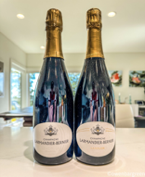 NV Larmandier-Bernier 'Latitude' Blanc de Blancs Extra Brut- The NV Larmandier-Bernier 'Latitude' Blanc de Blancs Extra Brut offers baking spice dusted green apple aromatics with lemon rind, and roasted almonds that all meld in the glass. Soft, wonderfully salty and refined, with a generous mousse, this is already drinking beautifully now. Drink 2023-2031- 92
NV Larmandier-Bernier 'Longitude' Blanc de Blancs Extra Brut- Sourced from Premier Cru Vineyards, the 'Longitude' has a refined nose of ginger and bergamot notes that combine wth Bartlett pear, lime zest and suggestions of pie crust. The palate has a silky mousse and refined effervescence. Seamless through the drinking experience this would pair marvelously with fresh nigiri. Drink 2023-2033- 93

Glass of Bubbly
12 February 2023, Latvia's Raimonds Tomsons was named winner of the ASI (Association de la Sommellerie Internationale) Best Sommelier of the World contest held at La Defense Arena, near Paris.
It took him many years of very hard work to finally achieve his goal. A person from a country with just around 30 years of wine culture, became the World's Best Sommelier.
Raimonds kindly agreed to share some of his sparkling wine experience with Glass of Bubbly readers….
3.What kind of bubbles do you serve by the glass at the moment?…Now we serve BTG Tarlant Brut Zero NV, Larmandier Bernier Latitude Blanc de Blancs Extra Brut NV and Krug Grande Cuvée."
FT Magazine  Wine
August 24 2023
Jancis Robinson knows you find wine confusing. This guide is going to help …
–What's a decent champagne to buy under £50 as a gift?
Larmandier-Bernier Latitude Extra Brut.